Remember that stack up there? It became something!
But before I talk about that, let me mention something about the Kitchy Kitchen fabric.
The picture is blurry because I was trying to iron and take the picture at the same time. The fabric changes color with heat! Instead of being lime green it turns to an olive green, almost goldenrod. It's not permanent, but is a little worrying. I haven't put the fabric in the dryer yet, so hopefully nothing bad happens!
I had 12 tumblers. And wanted to center them in some Essex linen. This required sewing the tumblers together into strips first. It took me a couple of tries to get the angle of the Essex strips correct so that they would follow a straight line after I pressed the seams flat.
But hey! Look! It worked! [And I'm LOVING the color combo, if I do say so myself]
I have had a half yard of this Secret Garden print since right after the line came out. I LOVE it. I love everything about it. But I was having the darndest time figuring out how to use it. I certainly didn't want to cut that beautiful large print up into smaller pieces. So I cut out a solitary circle to use in the back of the topper so that it will be reversible. This layout was one of my attempts to figure out what fabrics to use with it.
I quilted echo lines right outside the tumblers on each side, then quilted another set of 3 lines about 2.5" from the first set.
This is pretty small at approximately 16x24", but my table is only 38" square, so I wasn't looking for it to be overwhelming. It still needs some binding, of course, but I need it to be the perfect match for both the front and the back. I'm thinking a hot pink? We shall see. I'll probably use this on the table anyways until I get the binding on it.
I adore how the back came out! I can totally image a candle sitting in the middle of that circle. But, as you'll notice, the square ended up crooked. I thought I was so careful in placement. It's driving me nuts. I'm trying to decide if I should trim it square from the back and hopefully not notice the subsequent crookedness on the front...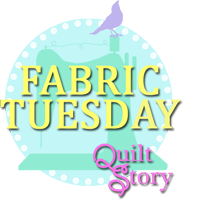 So hooray for finishing projects! [or almost finishing...] I'm linking up with Fabric Tuesday at
Quilt Story
so that my table topper is in good company!
Next up: more work on the
Tangerine Tango Challenge
and my
For The Love of Solids Swap
:)