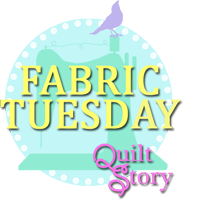 Edited to add: The ladies over at Quilt Story were so sweet and said I should link up to their Fabric Tuesdays, and I'm so easily persuaded to join in a good linky party, so now I'm linked up over there! Welcome all :)
I'm linking up with
Megan
again this week because sharing finishes is so much fun!
My modern finish this week is my SuperSwoon tree skirt/pants.
Everyone is swooning lately.
I am not immune.
I have plans to make myself a quilt using this pattern. But I actually think I might make another SuperSwoon and just add lots of borders instead of the 9 that make up the big quilt.
Anyways. SuperSwoon. The evolution of a giant Swoon from which all other Swoons are born!
Here are my beginning efforts on my design wall. At this point I had run out of red Santa gnomes, and I hadn't done any of the flying geese pieces. I honestly though about leaving it like this [I'm glad I didn't though!]. When I decided I wanted a giant one for a tree skirt I just made the center square 12" and changed all the measurements from there.
I ordered more fabric and got this top completed. I was making the tree skirt for the craft fair that I had a booth at this past Saturday. I wasn't too sure that it would be popular, since I live in a pretty traditional area, and this might be a little modern for most folks. So I had made a traditional tree skirt already, and was willing to take a chance on it, thinking I'd just use it for my own tree if nobody wanted it.
Unfortunately, the only picture I have of the completed skirt is of it hanging in my booth. The back is a white polka dot on an evergreen background, with a solid kelly green piece in the middle to make it big enough. The binding, since you can't see it very well here, is just a red and white stripe. And I just echo quilted around the red star and its extension points.
Um. Also. This skirt sold within 15 minutes of the fair starting. Luckily the woman who bought it also bought a quilt, and let me display them for the rest of the day. But seriously. This was by far the most popular item in my booth. I probably had 10 people tell me they would have purchased it, and so many more who said "Oh, man" when they saw the "sold" sign on it. So while I'm bummed that I didn't have more for all the people who wanted one, I feel gratified that it was so well received.
Next up, a SuperSwoon tree skirt for myself :) :)