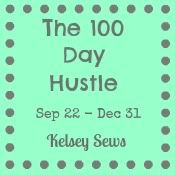 Kelsey over at
Kelsey Sews
had a great idea...The 100 Day Hustle! Apparently Saturday was 100 days left in 2012?!
ZOMG.
This is a little stressful to me for a number of reasons. First of all, my new job - I have a coworker right now with the same title as me who has essentially been running the program since its inception, but as soon as 2012 ends he will be leaving and it'll all be on me. So I have 100 days to soak up as much as I can from him! The other reason it's so stressful? I have so much sewing I want to do before the holidays! Seriously. Lots. So this is where The 100 Day Hustle comes in.
Make a To-Do List of things you want to accomplish before the end of the year. The ingenious part is that there are check-in link-ups through the remainder of the year to bring in that elusive accountability factor.
So here goes nothing:
Must Do
1. Commissioned quilt with American Jane focal fabric [already started, but stalled while I figure out how to make it not suck]
2. Commissioned pillow with The Hungry Caterpillar fabric [just received the fabrics this week]
3. Blue and orange quilt for my little sister [still trimming blocks, ew]
4. Set of pillows for my older sister's birthday [maybe 1 with some Potter Pattern embroidery?]
5. King-size quilt for my bed [this is on my 2012 resolutions list, but I haven't been able to buy the linen because it will obviously be quite a purchase...maybe this month!]
6. Pillow Talk Swap 9 [we should be getting partners any day now]
Really, Really Would Like to Do
7.. Halloween pillows for my couch
[super simple, I have some cute Riley Blake panel pieces cut for this]
8. Washi tunic [since I've already successfully made the pattern making the tunic version should be quite simple]
9. Banksia top
10. Pencil skirt out of linen
11. Autumn bunting [everything is already cut for this, I just have to actually sew it]
12. Christmas tree skirt
13. Shower curtain for my bathroom
So that's it. Sort of. I have some ideal things out there, like putting together another pattern for sale, and I'm sure I'll want to make lots of things for people as the holidays inch closer. But that's sort of the big stuff that I know right now.
And that list of projects up there certainly doesn't mean that I'm not dreaming up new projects. Particularly with the bundle above, completely inspired by the Jenean Morrison Grand Hotel print on the far left.