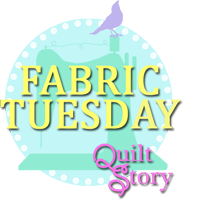 Linking up with
Fabric Tuesday
today to bring you an important public service announcement:
Everyone needs some last-minute gifts on hand at the holidays.
When I was younger we had a huge box of stuff in a spare closet that we could reach into if we needed a gift. My mom would just pick things up through the year that would make good gifts for anyone. There were things like soap sets and jellybean machines and picture frame sets.
I decided I needed to do the same thing this year, but of course I'd use it as an excuse to sew some stuff!
Enter hostess gifts:
I wish I knew why it was upside down?
So that consists of a hot pad and apron and is tied up with some bakers twine and a star cookie cutter!
I just love that Caleb Gray print, but I have to say that I am neither a red nor a pink person, so its weird that I have it. But I like the looks of these colors together better than the other colorway of the print. This is a block from my Farmer's Wife book, and I thought it was nice and simple!
To make the apron I cut a fat quarter of the Caleb Gray print [the back is a solid red FQ that I had on hand] and rounded the corners by tracing a bowl. I made myself an apron that has square corners and I don't like the silhouette as much.
I stitched the 2 fabrics together, right side together, leaving the top open. Turn right-side out, and press. Then top stitch. You can sew it at the top this time, but it doesn't really matter, since you're covering that part anyways.
I then cut the Hullabaloo fabric for the top. I think the waistband ended up being 3 inches, which means you will want to cut a piece that is 7 inches wide, and the length of your apron body. This apron waistband actually extends about a quarter of an inch past the body of the apron, which I personally tend to like, as I find it allows the apron to lie flatter on the body.
Press the waistband piece in top, and then press in 1/2 inch on each side. Pin onto the top of the apron body, making sure that the top is flush with the top inside part of the waistband. Pin lots so it doesn't move while you do the next steps!
Why is this one upside down too?!!
At this time you can add any sort of trim you want. Or none. I chose to add pom-poms, because I had a piece that happened to be the exact side of the apron. I can't argue with fate.
Sew across the bottom of the waistband with your needle in the position as far right as it can go. I can't program my needle, mine just moves, but I'd say its 1/8 inch from the edge. I then stitched another line for a little more stiffness in the waistband, but this is not necessary.
To make ties, cut 2 inch by 44-45 inch strips. You will need 2. This length allows for ladies of all sizes to wear the apron, and gives plenty of length for a pretty bow in the back :)
Make the ties just like bias tape. Press in half, and then press each half in half again so you don't have any raw edges. Fold in the one end and press. Sew along each tie, also with your needle to the right-hand position.
Take each of your ties and place the non-folded end inside the waistband. Make sure it goes in at least 1 inch for stability, and make sure that your ties are even and flush with the top of the waistband. Sew down the sides of the waistband with your needle still in the right-hand position.
At this time you're technically done [yay!] but you can go back and add more stitching on the waistband if you want it to have more structure.
You can add pockets or decorative touches too! And don't forget that these are totally reversible, so don't be afraid to use TWO cute FQs and then just make sure your waistband fabric coordinates with both!
Now I just need a party to go to where I can bring this :)